Amish Handcrafted SUNHEAT Infrared Heater – USA1500-AMISH Fireside Mocha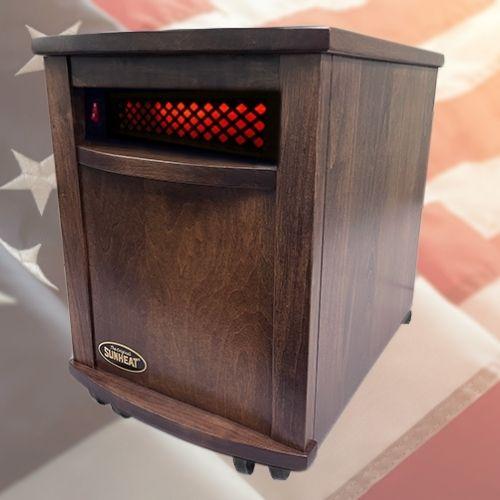 Amish Handcrafted SUNHEAT Infrared Heater – USA1500-AMISH Fireside Mocha
Regular price
$79900
$799.00
Sale price
$59900
$599.00
Save $200
Product Dimensions: 13″W x 19.5″D x 17.5″H
Weight: 40 lbs.
This Original SUNHEAT Amish cabinet electric portable infrared heater is fully made in the USA. The best infrared heater core featuring over four times the amount of copper as any competitor gives you MORE FREE HEAT and is enclosed in an heirloom quality handcrafted cabinet. These custom cabinets are handcrafted in Minnesota, by Amish craftsmen in a small workshop. The cabinets are made by living, breathing people who bring generations of woodworking expertise to each piece and are built with the finest, naturally grown, and most sustainable American woods. The solid hardwoods are locally grown and harvested by rural farmers, located within 100 miles of the cabinet workshop. The local sourcing assures an incredibly high level of quality and consistency in the hardwoods and are finished with a durable and tough finish which you can only find in the Original SUNHEAT Amish cabinet infrared heater.
The Original USA1500Amish will heat up to 1,000 square feet and provide safe, soft, comfortable heat for any area of your home or office. This reliable infrared heater houses six heating elements bringing the ambient temperature up 120 degrees and has a direct wiring system along with the original Honeywell manual thermostat which lasts longer and saves more than remote controlled digital models. The unit cannot start a fire and is safe to operate anywhere! Our best quality heater features a five (5) year parts and labor warranty backed by a family owned company since 1954.