Amantii 60″ Panorama Slim Indoor / Outdoor Electric Fireplace - BI-60-SLIM-OD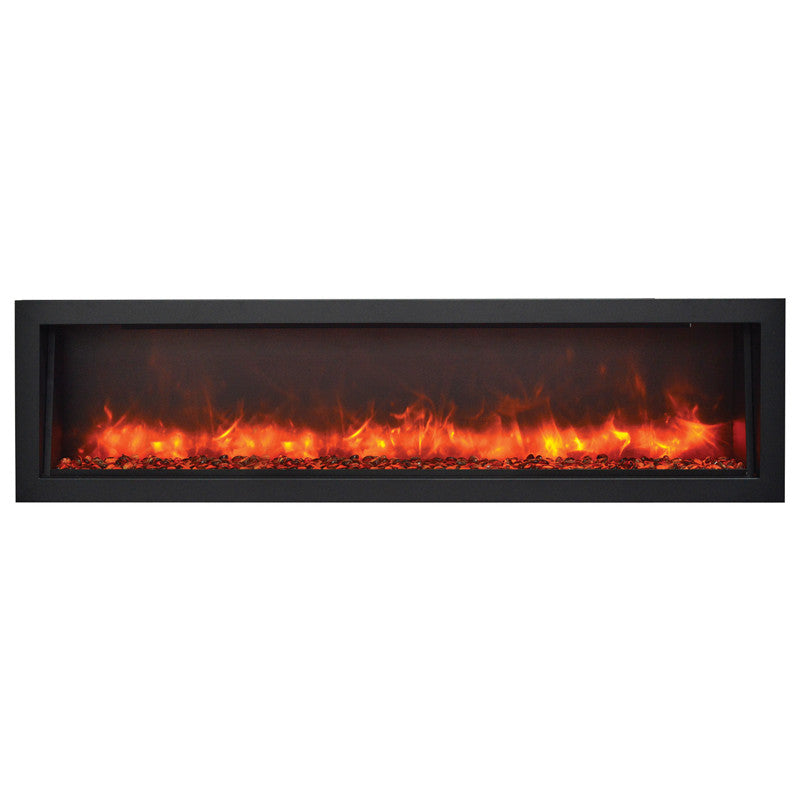 Amantii 60″ Panorama Slim Indoor / Outdoor Electric Fireplace - BI-60-SLIM-OD
Regular price
$2,19900
$2,199.00
Specifications:
Overall Dimensions: 58-5/8″ W x 23-5/8″ x H 6-3/4″ D
Surround Dimensions: 59-1/8″ W x 15-3/4″ H
Glass View Opening: 55 1/4″ W x 11-7/8″ H
Weight: 124 lbs. w/ glass
Features:
The Amantii 60″ BI-60-SLIM Indoor or Outdoor Electric Fireplace has a High / Low 1500W / 750W heater with fan. Adjustable mood light color. Adjustable flame brightness. Fixed glass front. Heat comes out from the front, below the top trim. Included black steel trim is optional. 2 Year limited manufacturer's warranty.
Part of the Panorama series, built by Amantii, the BI-60-SLIM-OD is an elegant 60″ wide and 6 3/4″ slim electric fireplace that makes a stunning addition to any room or outdoor space. Cover must be purchased for outdoor application, call (800) 555-0564 to order.
The Panorama Slim Series of built-in electric fireplaces have been designed to give you the maximum in flexibility in selecting a unit that perfectly suits your needs. The stylish electric fireplace will be a focal point in any room, indoor or outdoor.
At just 6 3/4" in depth, the Slim is a practical choice for new construction projects and renovations alike. The stylish BI-60-SLIM-OD electric fireplace also gives you the ability to install your fireplace with your choice of finishing material built right to the glass for a "clean face" design or using the provided black metal surround. Your choice – your design!